Learn how to get out of pain
and stop doing damage to your body.
Clinical Somatic Education relieves chronic pain, releases chronic muscle tension,
and changes damaging postural and movement patterns.

Read our book to learn how Clinical Somatics relieves pain and restores function.
The myth that our bodies will inevitably break down and that we must experience pain as we age is so ingrained in our belief system that few people stop to wonder why this breakdown occurs and if it might be avoidable. In the groundbreaking book Why We're in Pain, Sarah St. Pierre explains what causes most musculoskeletal pain and degeneration and how we can prevent, alleviate and eliminate our pain. Read more >
Want to learn more about Clinical Somatic Education?
If you're new to Clinical Somatic Education, you may have some questions, like:

What is Clinical Somatic Education?

How is it different from other methods?

What conditions does it help?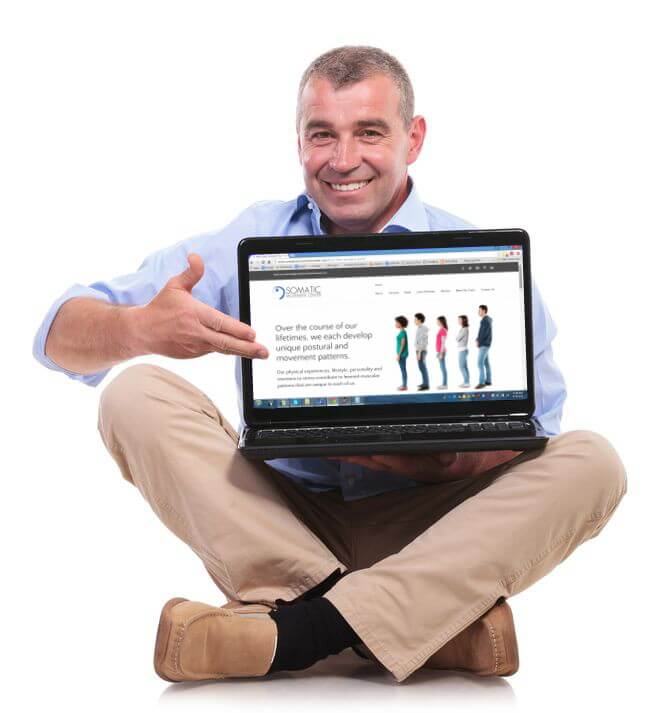 Join us this summer for a special workshop series at
Bhava Yoga Studio in Albuquerque, NM!
What People Are Saying About Clinical Somatic Education
"After having a medical device implanted in my chest for 6 years, I was left with limited mobility in my left shoulder. This led me to not only have poor posture, but a lot of neck and shoulder pain. I must admit I was a little skeptical about this until Pat explained physiologically how this works. Having a medical background this made perfect sense to me. After working on my shoulder for just one session, Pat was able to get my shoulder to relax and lie flat again. Pat instructed me on exercises to continue with, and I am happy to say that not only has my posture improved, but the pain and discomfort that I was experiencing is gone as well. Thank you Pat for everything."

"As a Fitness Professional, I see a lot of people moving on a daily basis. And one thing is readily apparent – pretty much everybody has a major limitation and most of the time they are not at all aware of it. We are aware of some of the symptoms that our learned postural patterns have caused, but in general we don't know how to reclaim the freedom lost. Somatics is the number one solution to getting your freedom back. Anyone who is serious about being and moving free and healthy needs to do Somatics, and Somatic Movement Center is the place to go – period."
"I have been doing hard physical work for several years and as a result have a few pains for my trouble. Otherwise I consider myself in pretty good shape. I have to admit I was a little skeptical about Somatics making that much difference. But I am very happy I tried it! Thanks to the exercises I was shown I can alleviate pains that I thought were permanent! I have better range of motion and feel better overall. Try it. It's worth it!"
"I truly enjoyed your workshop (Reduce Stress and Improve Sleep & Breathing). In addition to feeling great because of the movement and body awareness, it gave me a new perspective of being in the moment. I honestly didn't expect such a profound outcome from a 2-hour workshop so it's a very pleasant and welcome change!"
"After taking several of Sarah's Somatics classes and having several private sessions I have a new awareness of balance in my body. I had a lot of knee pain from osteoarthritis which was causing tension in my leg muscles. The Somatics process helped me to release that tension which has enabled me to walk more and exercise in general. I recommend Somatics because it is gentle, painless, and relaxing!"
"I started Somatics not really understanding what it was all about. After my first class, I realized that it would help me in many ways. By retraining my muscles, that in my day to day life had become very tight, I was able to get rid of my back pain. It has also helped me relax and refocus. I enjoyed it so much that I brought my children to class as well."