Learn how to get out of pain
and stop doing damage to your body.
Clinical Somatics exercises retrain your nervous system,
changing the learned muscular habits that are causing your pain.
Read Why We're in Pain to learn how Clinical Somatics relieves pain and restores function. Learn more >
Want to learn more about Clinical Somatic Education?
If you're new to Clinical Somatic Education, you may have some questions, like:

What is Clinical Somatic Education?

How is it different from other methods?

What conditions does it help?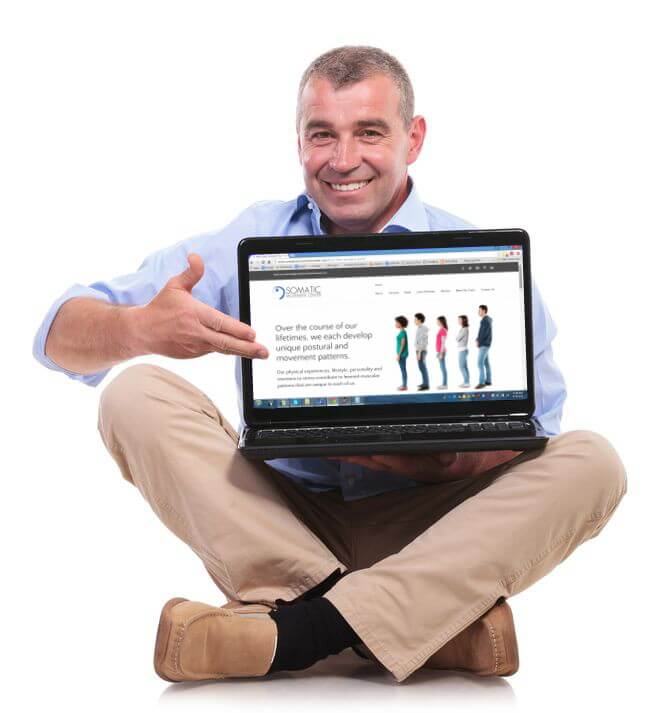 Join us this summer for a special workshop series at
Bhava Yoga Studio in Albuquerque, NM!
What People Are Saying About Clinical Somatic Education
"I was in a car accident about 20 years ago, and I still had pain on my left side and limited movement throughout my body as a result. I have done everything over the years: massage, rolfing, craniosacral work, myofascial release, you name it. I read Thomas Hanna's book and it made a great deal of sense. I started having private Somatics sessions, but I could not get into the habit of doing the exercises at home. Finally after about two months I started doing them at home, and it has made all the difference in the world. My pain is now mostly gone and I am moving much more easily. I'm able to go on long walks again, which is a big deal for me. This is the best I have felt in years."
"I've gone through some very traumatic things in my life, and I've also done a lot of intense and reckless physical activities. At age 55 my body was definitely the worse for wear. I had pain and arthritis in both knees, sciatica, and chronic pain in my neck. I read Thomas Hanna's book and found Somatic Movement Center online. I had five Somatics sessions over the course of about three months, and my knee pain has improved and my sciatica and neck pain are completely gone. The daily practice has lowered my stress as well. Thank you, Sarah."
"I injured my back last year, and since then I've had pain in my SI joint. I've been trying to stay really active but the pain was about a 7 out of 10. After two sessions and a month of doing the exercises, my pain is down to a 2! I can't believe it. I was feeling sciatica pain and numbness a few times a week, and I hardly feel that anymore either."
"My 15-year-old daughter is a ballet dancer and she had developed lower back pain. It didn't go away even after taking a break from dancing for six months. After three sessions, her pain is almost completely gone! Sarah taught her how to release her back muscles and stand without arching her lower back, and it has made a big difference."
"I truly enjoyed your workshop (Reduce Stress and Improve Sleep & Breathing). In addition to feeling great because of the movement and body awareness, it gave me a new perspective of being in the moment. I honestly didn't expect such a profound outcome from a 2-hour workshop so it's a very pleasant and welcome change!"
"After taking several of Sarah's Somatics classes and having several private sessions I have a new awareness of balance in my body. I had a lot of knee pain from osteoarthritis which was causing tension in my leg muscles. The Somatics process helped me to release that tension which has enabled me to walk more and exercise in general. I recommend Somatics because it is gentle, painless, and relaxing!"
"I started Somatics not really understanding what it was all about. After my first class, I realized that it would help me in many ways. By retraining my muscles, that in my day to day life had become very tight, I was able to get rid of my back pain. It has also helped me relax and refocus. I enjoyed it so much that I brought my children to class as well."